myFirstech Dealer App now available on the web at https://install.myfirstech.com and for Android on Google Play. iPhone/iPad app will be available in the App Store soon!
Heading into the holiday remote start season, Firstech has announced the launch of the myFirstech App. The app is free in the App Store and Google Play for all dealers doing business directly with Firstech and/or Authorized Firstech Distributors.
At launch, the myFirstech App will support the following functionality:
12-volt wiring (location, color, polarity, images) for remote start, security, and audio installations
Detailed install guides and vehicle walkthroughs
DroneMobile telematics activation and troubleshooting
Product document library
myFirstech Rewards recurring revenue program for dealers and installers
Exclusive access to myFirstech Academy virtual and in-person trainings
B2B e-commerce for direct Firstech dealers to purchase Firstech products

Compustar & Compustar PRO
DroneMobile (hardware and subscriptions)
Arctic Start
FTX
Momento
iDatalink
iDatalink Maestro
iDatastart
Mid City Engineering
NuStart (EDA members only)
Tesa® Tape

B2B order management for direct Firstech dealers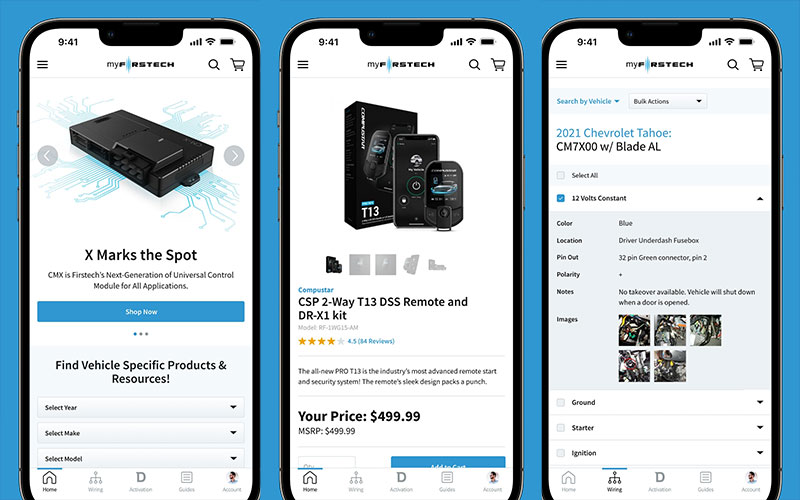 The myFirstech App's wiring guides are a collaboration between Firstech and iDatalink. At launch, remote start wiring will be available for over 10,000 vehicles and audio wiring for over 35,000 vehicles. In total, 12-volt installers will gain access to over 500,000 data points in the myFirstech App.
All of these features will also be available on the myFirstech website (https://install.myfirstech.com). After a brief period, the website URL will redirect to www.myfirstech.com.
"At Firstech, we want to make doing business with us as simple as possible," shares Firstech's Marketing Director, Justin Lee. "The myFirstech app and website will now be the 1-stop shop for dealers, salespeople, and installers to purchase and install Firstech's award-winning catalog of connected car solutions".
Access to the myFirstech app and website is free and no buy-in or commitments are required. To create an account, please visit https://install.myfirstech.com/dealer-request or contact your Firstech sales representative. Installers are encouraged to register through their business owners in order to gain access to Firstech's revenue share program, myFirstech Rewards.